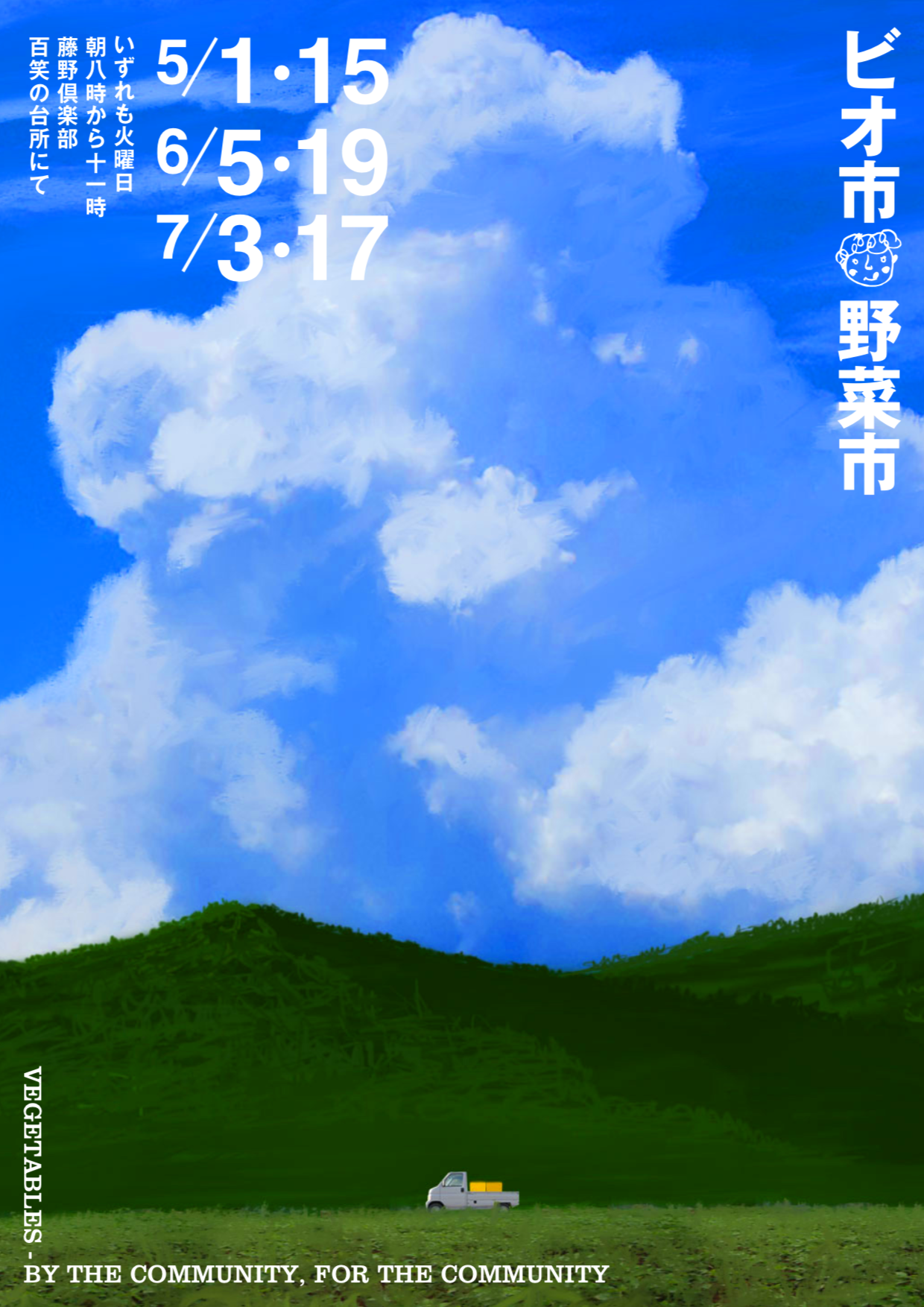 5月、6月、7月も第一第三火曜日に開催致します!!
UPCOMING FARMER'S MARKET SCHEDULE
Open from 8-11am on the 1st and 3rd Tuesdays
Looking forward to seeing you there!
20軒以上の地元農家が参加する朝採り野菜市定期開催中です。
有機農家さん自ら直売。美味しい食べ方など聞けちゃいます。
地元産の旬の野菜はもちろん手作り農産加工品も大好評!
新鮮でしかもお値打ち価格!
朝市はまさに早い者勝ち。
早起きしてお越しください。
みなさまのご来場お待ちしています。
In Fujino, we have a farmer's market that we hold biweekly on Tuesdays, with over 20 farms participating. What's special about this farmer's market is the fact that many of the farmers are relatively young, and the fact that there are so many of them all in one place – all gathered there to  share with you their stories, recipes, and tips.
Aside from fresh local vegetables, there are food and drinks for those who missed their breakfast, and processed food (dressing, jam, etc) that you can also take home.
Open from 8am till 11am. A lot of stuff sell out fast, so come early!
Flyer Design / Naoki Yoshioka
Illust / Yuji Kakuta
Photo by Kazuhiro Hakamada
開催場所は藤野倶楽部です。
駐車場が満車になることが多いのでなるべく徒歩かバスできてください。
バスに乗ったら藤野倶楽部の前で降ろしてくださいと伝えていただければビオ市会場前で下車できます。
ご不明な点などありましたらビオ市事務局 土屋まで(08050758903)
JR藤野駅 バス時刻表
http://info-fujino.com/timetable#yamanami

BIO Conference 〜The Twenty-Four Solar Terms〜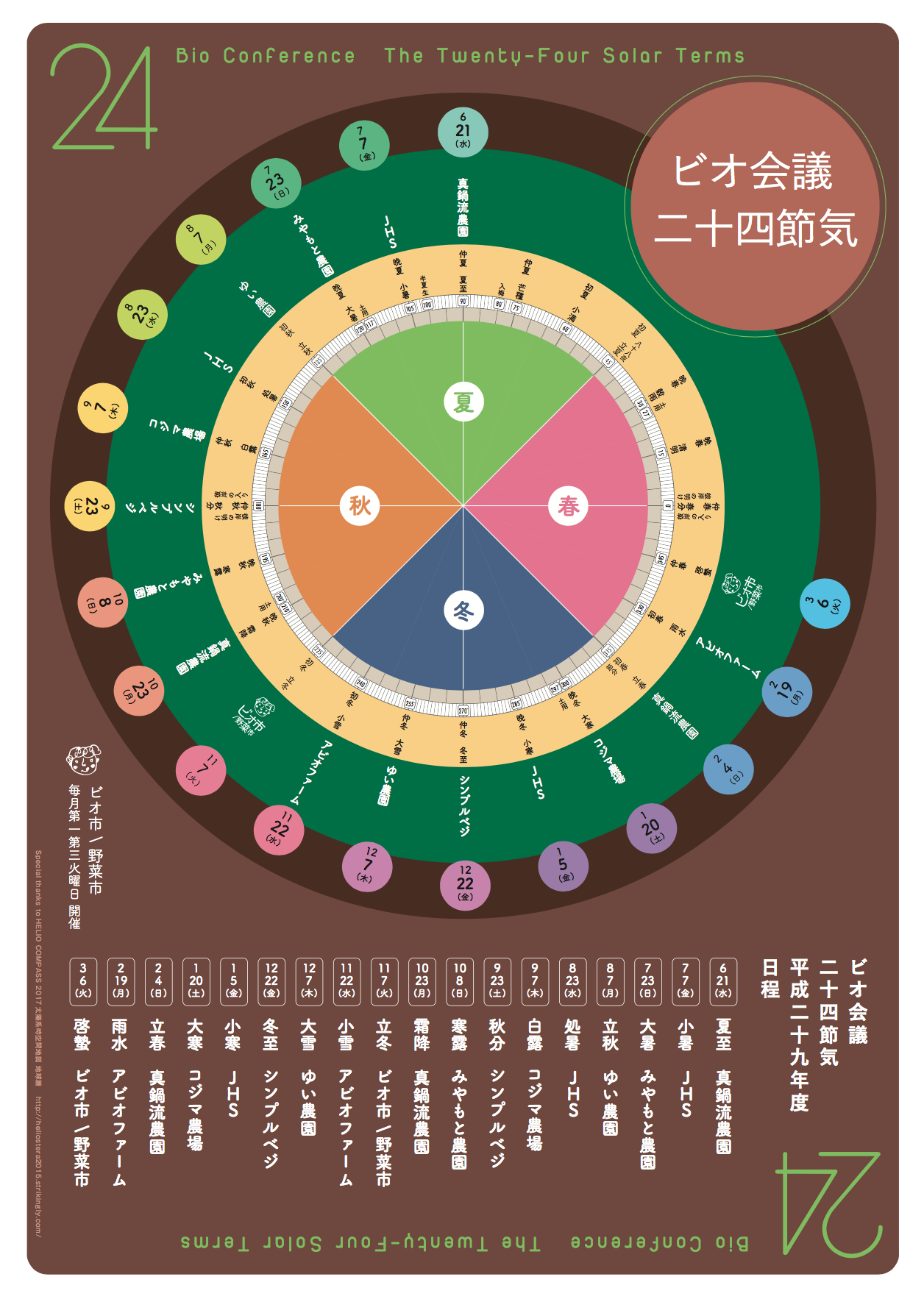 ビオ会議に参加希望の方はこちらからどうぞ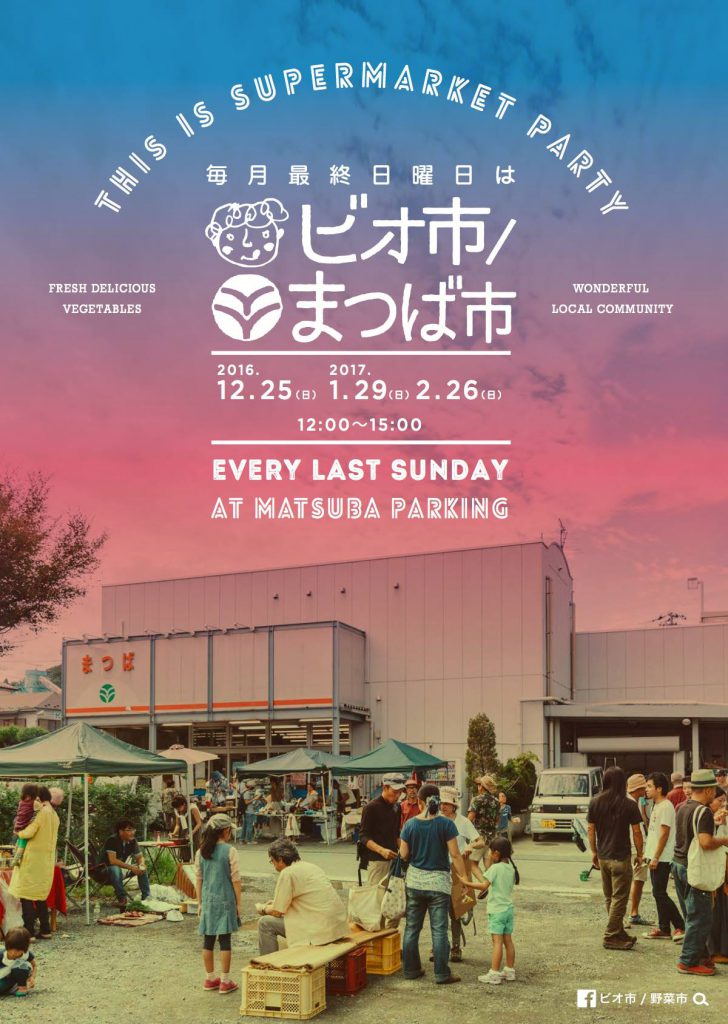 ※スーパーまつば店内にてビオ野菜が毎日買えるようになったので、まつば市は2017年2月で終了致しました。
Fujino Farmer's Market, a.k.a. Bio-ichi is going to collaborate with a local supermarket to do what we will call a "SUPERMARKET PARTY" – collaborating with an established local supermarket to add flair, energy, and local food and vegetable stands that you can enjoy while you mingle with the locals, shop owners, and other visitors.
The plan is to make it a monthly event from this fall, and it will be held on the first floor parking space of Supermarket Matsuba.
Check out the vibe of a spin-off of the original Farmer's Market, in an attempt to include the local community of Fujino/Sagamiko/Uenohara area on a new scale.